Open House in Ocean County with photos and maps for Sunday April 9, 2017 in Barnegat, Stafford Twp, Lacey (Forked River & Lanoka Harbor), Bayville, Long Beach Island, Toms River, Brick, Jackson, Waretown, Beachwood, Point Pleasant, Mantoloking/Seaside Area and all of Ocean County (These are the only scheduled Open Houses in Ocean County for this Sunday).
Click here to set up your own Open House Alerts in the areas in which you're interested. No more searching for Open Houses, you'll get notified immediately! (use the filter button and tick the box "Just Open Houses" and then save your search. Below is the complete list of Open Houses in each town for Apr 8 & Apr 9, 2017.
Click on the links below to access photos and maps for every open house for the specific town in which you are interested.
Featured Open House of the Week: 1434 Oakwood Hollow Ln, Toms River, NJ 08755
Toms River Community Information and Housing Market Trends – The data on in this link is consolidated from multiple sources and includes current listings, recent sales, and more. Whether you're a buyer or seller, the knowledge you gain will help put you in control of your real estate transaction.
Search Every Home on the Market on The Jersey Shore in Ocean County
Trusted resource for answers about the process
Innovative marketing strategies
Expertise about neighborhood features
Ability to target home searches
Strong negotiation skills
Support through the closing and beyond
Has the Market Stabilized? – contact me for the very latest in Market Trends and Analysis
Curious about your current home's value? Go to www.oceancountyhousevalue.com
There are over 200 open houses in Ocean County this weekend. Here is a map of all Open Houses in Ocean County for April 8 & April 9, 2017.


March 2017 Market Update
Home sales accelerated this January, reaching the highest levels seen in nearly a decade according to the National Association of REALTORS®. Despite expectations of rising interest rates, depleted inventory, and affordability concerns in many areas, home buyers remained resilient.
Interest Rates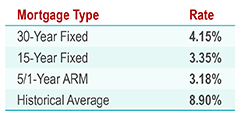 According to Freddie Mac, 30-year fixed rates ticked back down from 4.19 percent to 4.15 percent. While the Federal Reserve and other financial institutions continue to make adjustments cautiously, there is an expectation among investors and economists that rates will soon increase again.
Home Sales
The National Association of REALTORS® reported home sales at a seasonally adjusted annual rate of approximately 5.69 million homes during the month of January. This was an increase of 3.3 percent from December, and an increase of 4.0 percent from January of last year.
Home Prices
The median home price decreased to $228,900 in January, which was down 1.9 percent from December and up 7.1 percent from January of last year. The median home price has increased by approximately $15,200 in the past year alone.
Inventory

There was a 3.6-month supply of housing inventory in January, which was the same as December. The total number of homes for sale decreased by 10 percent compared to January of last year.
Free Instant Valuation
Brought to you by KW Research. For additional graphs and details, please see the This Month in Real Estate PowerPoint Report.The opinions expressed in This Month in Real Estate are intended to supplement opinions on real estate expressed by local and national media, local real estate agents and other expert sources. You should not treat any opinion expressed on This Month in Real Estate as a specific inducement to make a particular investment or follow a particular strategy, but only as an expression of opinion. Keller Williams Realty, Inc., does not guarantee and is not responsible for the accuracy or completeness of information, and provides said information without warranties of any kind. All information presented herein is intended and should be used for educational purposes only. Nothing herein should be construed as investment advice. You should always conduct your own research and due diligence and obtain professional advice before making any investment decision. All investments involve some degree of risk. Keller Williams Realty, Inc., will not be liable for any loss or damage caused by your reliance on information contained in This Month in Real Estate.

Barnegat real estate conditions are changing and your Market Insider provides valuable, up-to-date information about the communities important to you. View critical information about what is happening now, so you can be a "Market Insider"!

Market Area: 08005

| | |
| --- | --- |
| Listing Price | $276,340 |
| Listing Price Trend | -0.01% |
| Sold Price | $398,030 |
| Sold Price Trend | + 113.52% |

Just a fraction of what's happening…
click now to view more local market conditions!
Buying or selling a home involves many factors. Stay on top of current community trends by viewing these listing and sale prices, demographics, school performance, area comparisons, and more. Of course, you can always call or email for help understanding what this information really means for you.
Featured "Insider Tip"
How to Get a Mortgage Loan for a Fixer. Here's a clever real estate dictum for you: Don't buy the best house in a bad neighborhood; buy the worst house in a good neighborhood.There are several reasons for this rule, but the m…
Learn more about successfully selling or buying a home and check out a whole library of tips and articles to help you!
As always, thank you for your time and feel free to get in touch if you have any questions.